How Consolidated Billing Saves Companies Time and Money
Consolidated billing takes a flurry of invoices and handles them with one clean, time-saving monthly payment. Learn the benefits in this quick guide.
Last Updated:
November 17, 2023
If your AP clerk's desk is buried under an avalanche of papers, it may be time to upgrade your invoice processing.
Organizations, especially small businesses, often labor under an ever-increasing flow of invoices — all with different billing dates, payment conditions, discounts, penalties, and preferred payment methods. They don't realize there's a better way to centralize and simplify purchasing and payment processes: a consolidated billing process.
Today, we share all the information necessary to get started with invoice consolidation. Invoice consolidation allows companies to get out from under the pile of invoices needing processing and move to one simplified, automatic monthly payment. With Order.co, users maintain total visibility into invoicing while freeing themselves from the tedious and error-prone work of manual processing.
Read on to get answers to:
What is consolidated invoicing?
What are the biggest invoice challenges buyers and vendors face?
What are the benefits of invoice consolidation?
How can companies use Order.co to create a consolidated invoice?
How does consolidated billing work for companies?
Download the free tool: Invoice Tracking Template
What is consolidated invoicing?
Consolidated invoicing means using a third-party procurement management solution to unify payments into one monthly transaction. It replaces the chaos of manually managing hundreds or thousands of invoices with a single, streamlined system that ensures all your vendors get paid on time.
What are the biggest invoice challenges buyers and vendors face?
Invoice processing presents multiple challenges for working capital management. Net terms agreements are useful as they make things more flexible for buyers, but for vendors, they extend the time between delivery and repayment, introduce default risks, and make it hard to plan cash flow.
To minimize risk, vendors must thoroughly vet customers for potential credit risks and sometimes turn them down for extended terms. Buyers must carefully manage cash flow and stay on top of invoice processing to avoid fees and maintain good vendor relationships. This isn't an easy task, as one recent study estimates that 10 percent of invoices paid to suppliers by SaaS firms require adjustment due to errors. Fortunately, invoice consolidation through Order.co solves challenges on both sides of the transaction.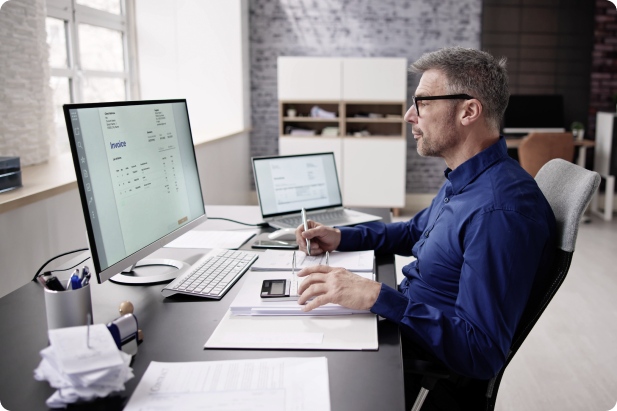 Ebook
Invoice Tracking Template
Download the invoice tracking template to avoid costly mistakes, clarify financial patterns, and track spending throughout the year.
Download the tool
Here are the biggest challenges for companies using manual, non-consolidated invoice processing:
Late or missed payments: In an organization with scores of vendors and hundreds of invoices, it's easy to miss a payment. This is especially true in cases where vendors submit paper invoices or have substantially similar invoice data (amounts, line items, transaction dates, etc.) for many transactions.
Delayed payments result in fees, interest, and potential loss of preferred contract terms. Late payments are one of the primary issues in accounting departments, with 40 percent of respondents saying that insufficient invoice validation is the primary reason payments get delayed.
Duplicate payments: Doubling up on a payment can be just as costly as incurring fees due to a missed payment. Duplicate invoices must be researched, refunded from the supplier, and backed out of the general ledger (GL) system on both sides. All this means sinking time and wages into finding errors and making corrections.
With a centralized system, potential duplicates are flagged for review and correction before they become a problem.
Processing backlogs: Time-consuming manual invoice processing typically means a mountain of paperwork that never seems to shrink. The constant backlog creates stress in finance departments, increases the likelihood of errors, and eliminates potential benefits such as early payment discounts.
Moving to an automated, centralized invoice consolidation system saves time, especially in growing companies with large vendor pools and invoice volumes. It takes the weight off the AP team's shoulders, minimizes the likelihood of errors, and reduces countless hours of processing to a short monthly review and approval for a single invoice.
Multiple invoices from a single vendor: Vendors often provide an invoice for each transaction. In organizations with many locations or business units, all these one-off bills can result in hundreds of monthly invoices for the same or similar items. This type of fragmented invoicing makes it hard to track spending across each location, pay invoices promptly, and keep a handle on budgets.
Invoice consolidation solves this challenge by collecting all invoices into a single payable summation and recording the transactions accurately in the accounting system. It provides the perfect balance of invoice management and granular visibility into spending.
What are the benefits of invoice consolidation?
Centralized purchasing and invoice consolidation present opportunities to maximize cost efficiency, improve finance processes, and reduce uncertainty in the buying cycle. Companies that use consolidation to pay their invoices gain numerous benefits.
Streamlined payables: The traditional methods of invoice processing aren't scalable. Handling hundreds or thousands of monthly invoices with different payment methods, addresses, and terms makes the accounting process inefficient and cumbersome. It also results in more errors that need researching and correcting by AP clerks with too much on their plates.
With consolidated invoicing, AP and Finance can rely on a single, repeatable process for every transaction. What's better, automation and AI replace many tedious processing tasks that waste time and lessen productivity.
Better cost efficiency: Manual invoice processing is an expensive way of doing business. Even efficient AP clerks in high-performing teams can only process so many transactions per hour or day.
Digitizing invoice processing allows transactions 24/7 without excessive manual labor. And with consolidated invoices, making payments proceeds at the touch of a button. These improvements make processing much more cost-efficient, dropping the average cost from $13 per invoice to as low as $3.12 for best-in-class AP processes. With Order.co handling processing and payments, AP and Finance can become value-creation centers and deliver better results on higher-priority tasks.
Automated recording and reports: Consolidated invoicing starts with centralizing all vendor transactions within the platform. This makes it possible to create automated workflow for tasks like approvals, invoice matching, and payments. Centralizing this data makes it easier to verify accuracy and report on your spend data.
Universal net terms: Using consolidated invoicing for purchases helps ensure buyers enjoy the same payment terms for every transaction — regardless of vendor, order size, or shipping location. Universal net terms make payments more predictable and stabilize cash flow. Instead of keeping track of payment terms and due dates across potentially dozens or hundreds of vendors, all orders within a billing cycle have the same due date.
In many cases, buyers also enjoy extended net terms since Order.co is the vendor of record. This gives buyers more control over day-to-day operations and instills confidence in vendors that know they'll always receive timely payments.
On-time payments for vendors: In a consolidated invoice system, vendors getting paid upfront for their services is a major benefit. Rather than waiting 30, 60, or 90 days for payments from extended net terms arrangements, vendors receive payment at the time of fulfillment. This makes it easier to cash flow and free up capital for other investments. It also increases the potential buyer pool, as consolidation reduces credit risk by guaranteeing payment.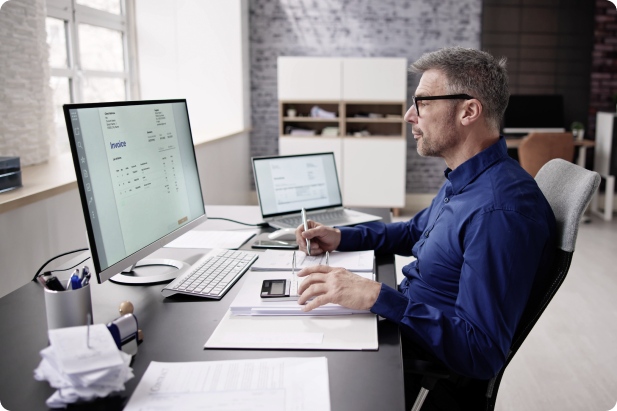 Ebook
Invoice Tracking Template
Download the invoice tracking template to avoid costly mistakes, clarify financial patterns, and track spending throughout the year.
Download the tool
How to create a consolidated invoice in Order.co
Order.co makes it easy for managers to consolidate monthly orders into one invoice for fast, efficient payment.
1. Log into Order.co to see complete information on all orders processed within the system.
2. Select 'pay' from the left-side menu.
3. Within the pay menu, managers can see every invoice currently in the system, including details like:
Cost
Line items
Payment due date
Payment status (paid, unpaid)
4. In the right-hand column of the invoice list, you'll find an action item to pay an individual invoice. You also have the option to select 'pay multiple invoices' by clicking the button on the top right side of the screen.
5. You can select which invoices to consolidate into a single invoice from the consolidation screen, and you'll receive standard net terms on all selected invoices. Vendors will be paid immediately, and transactions will be recorded within Order.co, so you'll never have to worry about missing a payment or hunting for invoice information.
How does consolidated billing work for companies?
Companies and vendors love the consolidated billing process for its straightforward processing and ease of use. What are the potential results of using consolidated billing in your organization? Let's look some case studies showing the effectiveness of consolidating payment.
This full-service management firm excelled at managing residential, commercial, and retail units, but managing spend was more of a challenge. Using Order.co, Clinton was able to get its spend and payments process under control:
The company consolidated over 109 vendors to dramatically decrease invoice volume
With more visibility, they were able to generate over $1,200 in monthly savings
The vendor-agnostic approach helpd them automate 100 percent of offline vendor ordering
Clinton now pays all its invoices with the touch of a button, consolidating 100 percent of its invoices. Director of Purchasing is thrilled with the results: "Our vendors aren't calling to ask where their payments are anymore," explains Nadia, "Our AP Manager doesn't have to cut a single check. Order.co makes his life so much easier."
IWP helps health systems, universities, and municipalities with development, finance, health and wellness management solutions. But the company's procurement management across its 5 US locations was struggling. Order.co helped IWP reduce its invoice overload and waste spending:
The company's locations now stay within budget on procurement spend without stress.
IWP consolidated 66 vendors, achieving simplicity and savings as a result.
It pays over 80 monthly invoices with a single click using consolidated billing.
With 96 percent of its invoices now consolidated, Corporate Staff Accountant Shannon could stop "running around trying to get signatures for checks," saving her time and letting her focus on other priorities.
Fitness and life balance are two of the key features for the spinning studio's 350k+ members, but the company needed a trainer of its own to help with invoices. Order.co helped SoulCycle to get the procurement process across its 93 locations into the bst shape of its life:
Order.co helped streamline and automate orders from over 50 vendors.
The company now earns over $7,200 in rewards for the purchases it makes.
With consolidated billing, SoulCycle now pays 1,500 invoices with one quick payment.
Operations manager Sarah says that reporting that previously took "five to six hours a month" is much easier now that she submits one monthly invoice for the whole company. "I can be self-sufficient — meaning able to add products, users, or locations on my own. I can also get a report without waiting for someone to provide me with the data. 90% of the things I need to do, I'm able to do at the moment."
Streamline your payments with consolidated invoicing
Order.co makes it easy to centralize separate invoice challenges into one easy-to-use platform, enabling you to pay for all your purchases with a single click. If you're ready to learn more about simplifying your invoicing process, request a demo of Order.co today.
Get started
Schedule a demo to see how Order.co can simplify buying for your business.
"*" indicates required fields