More Control For You, More Autonomy For Them
Control every purchase with custom approvals and budgets, and increase visibility into your spend with detailed reporting.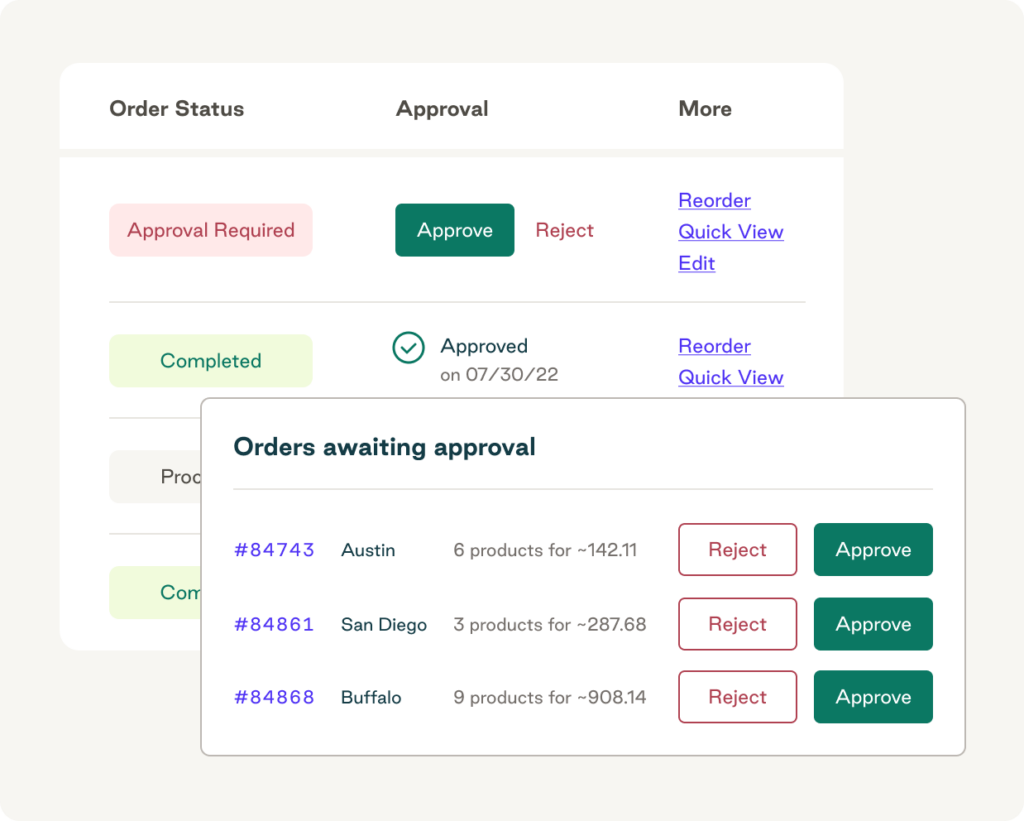 Approval workflows fit for your organization
Generate approvals by GL code, user, vendor, location, cost center, and order subtotal
Improve purchasing turnaround time with automatic order placement upon approval
Edit purchase requests at the line item level to avoid back-and-forth communication and delays
Centralize your approvals so that requests don't get lost in your inbox or messages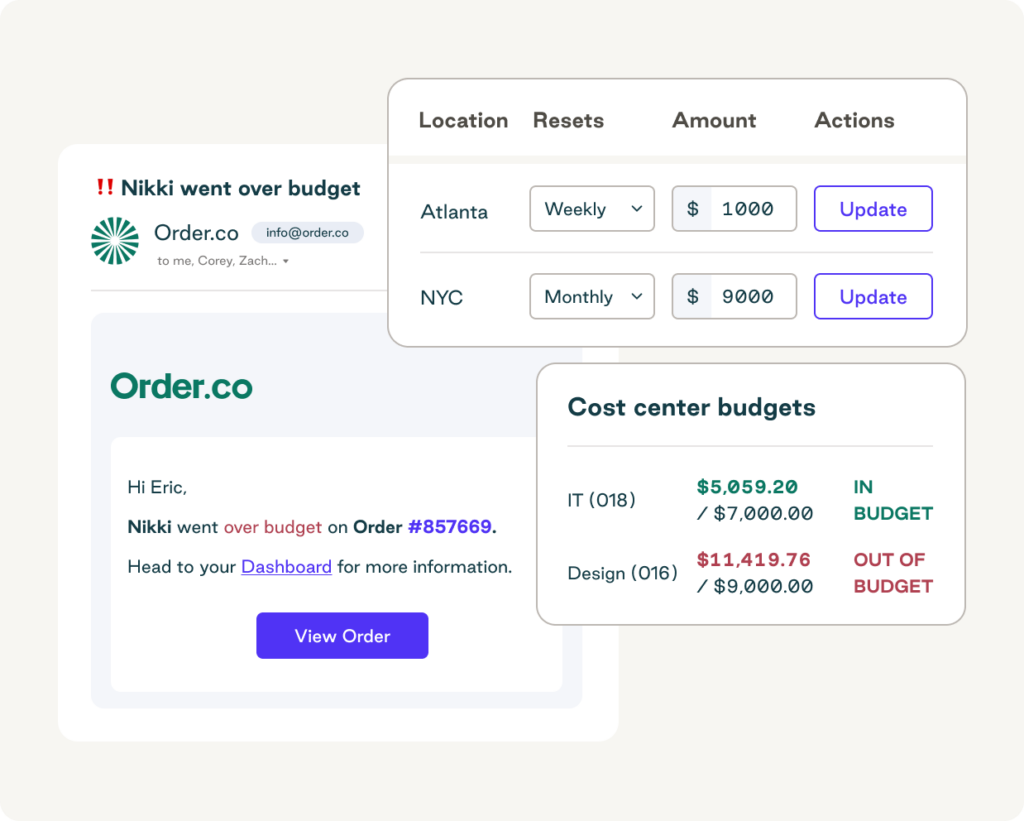 Track and limit spending with customizable budgets
Leverage budgets for users, locations, or cost centers and set them to the cadence that works best for your team
View changes in your budget as purchases are made, so your team never overspends
Allocate portions of a budget to specific types of products to control exactly how money is spent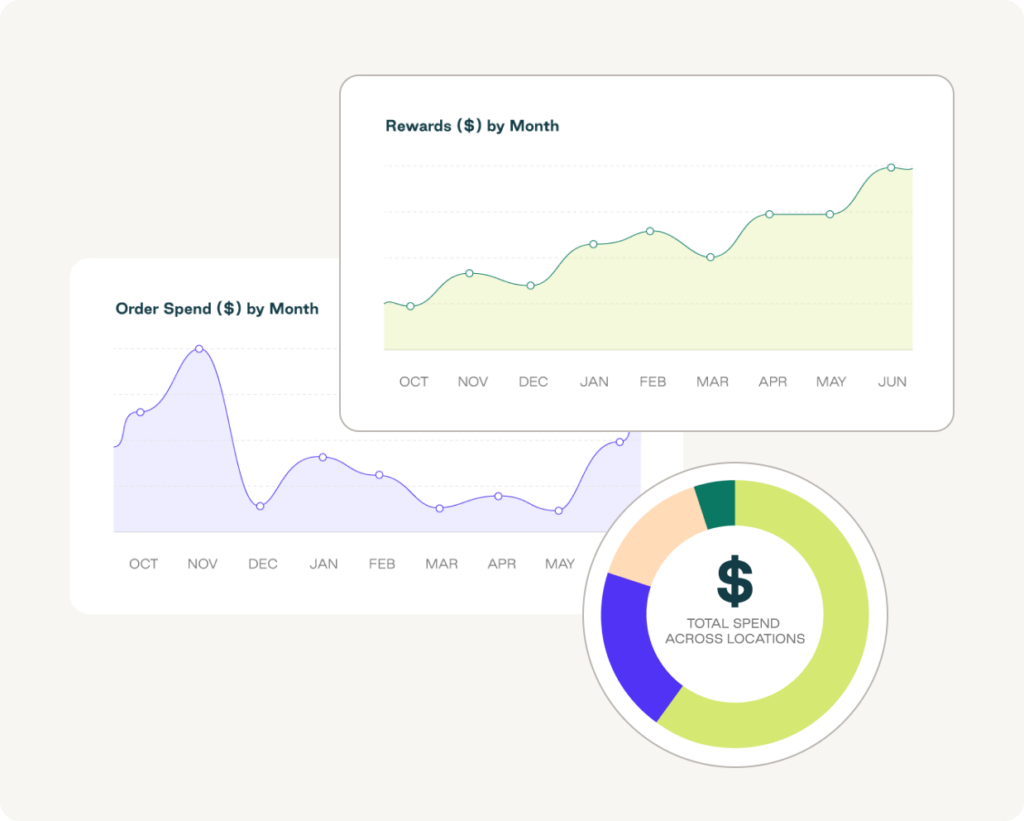 Detailed reporting for better spend decisions
Generate granular reports with spend broken down by user, vendor, location, and more
View your spend and budgets in real-time to identify areas for cost savings
Create more accurate forecasts with instant access to historical spend data and trend projections
"By implementing controls and approval processes, Order.co has allowed us to essentially eliminate all unapproved spending, which had gotten as high as $50k per month. "
Facilities & Property Management Specialist, CorePower Yoga
"If someone is over-spending their limit, I can see exactly what they spent the money on. I can track down issues, and get reports to help with forecasting and making budgets. It's a breeze. I have everything right here to look at. "
IT and Operations Manager, ZeroCater
"Order.co's analytics are tremendous. We couldn't get anything nearly as granular from our vendors. The reporting on the data can be as granular as you want... by location, practice group, or category. It offers much more data than any vendor. "
National Operations Manager, Cozen O'Connor
Frequently asked questions
Order.co offers highly-customizable approval workflows to maximize your ability to manage orders and control costs. Companies can set approval rules based on particular users, locations, cost centers, vendors, estimated subtotals, and more. You can also appoint multiple approvers or set up multi-step rules — approvals are as dynamic as you'd like them to be. To explore the full functionality of Order.co's approval system,
schedule a demo
today.
Yes! Order.co makes it easy for businesses to control spending with customizable budgets that update in real time. You can view your budget status directly on your dashboard.
There are a variety of reports that you can create to gain full visibility into your spend, orders, and custom product catalog. Order.co also has ready-to-view, downloadable reports — for views like Spend By Code, Spend By Vendor, and more. If you are interested in learning more about Order.co's reporting functionality,
speak with the Order.co team today
.