Purchase Everything
In One Place
Order makes it easy for businesses to automatically place and manage every order in one centralized location. No more complicated workflows, scattered spreadsheets, or uncertainty about your purchasing.
Radically reduce the time & money you
spend on purchasing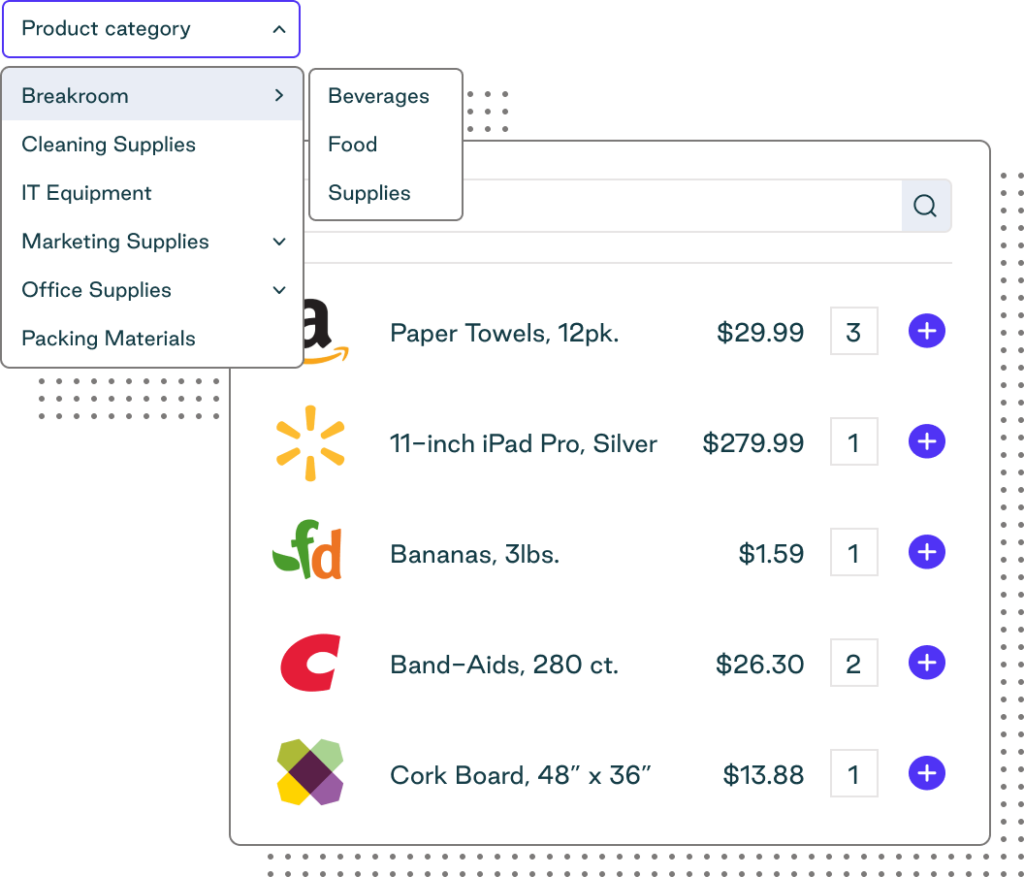 Curate a custom catalog
Purchase everything your business needs through Order, instead of ordering through each individual vendor. From big-box stores to industry-specific vendors and online marketplaces to vendors that receive POs via email, they're all in your custom Order catalog.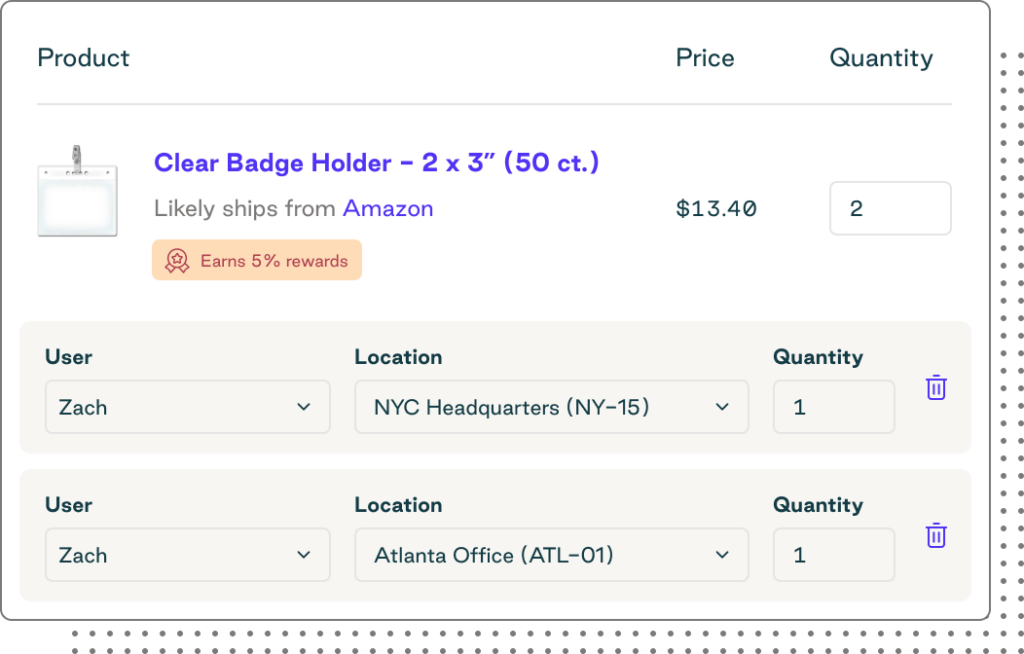 Control purchasing through the catalog
Ensure purchasing compliance through your catalog, complete with pre-approved products to encourage standardization across locations and eliminate rogue spend.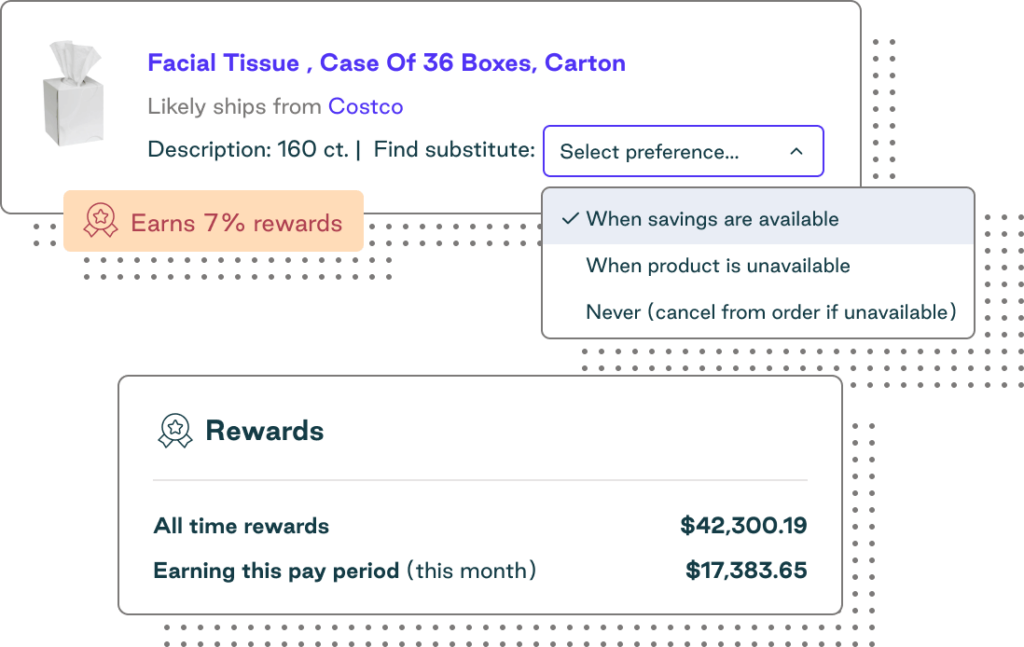 Discover savings
Save money on your purchases by tapping into Order's $4 billion in buying power. And, Order can strategically source products to discover savings on the same products you're purchasing today.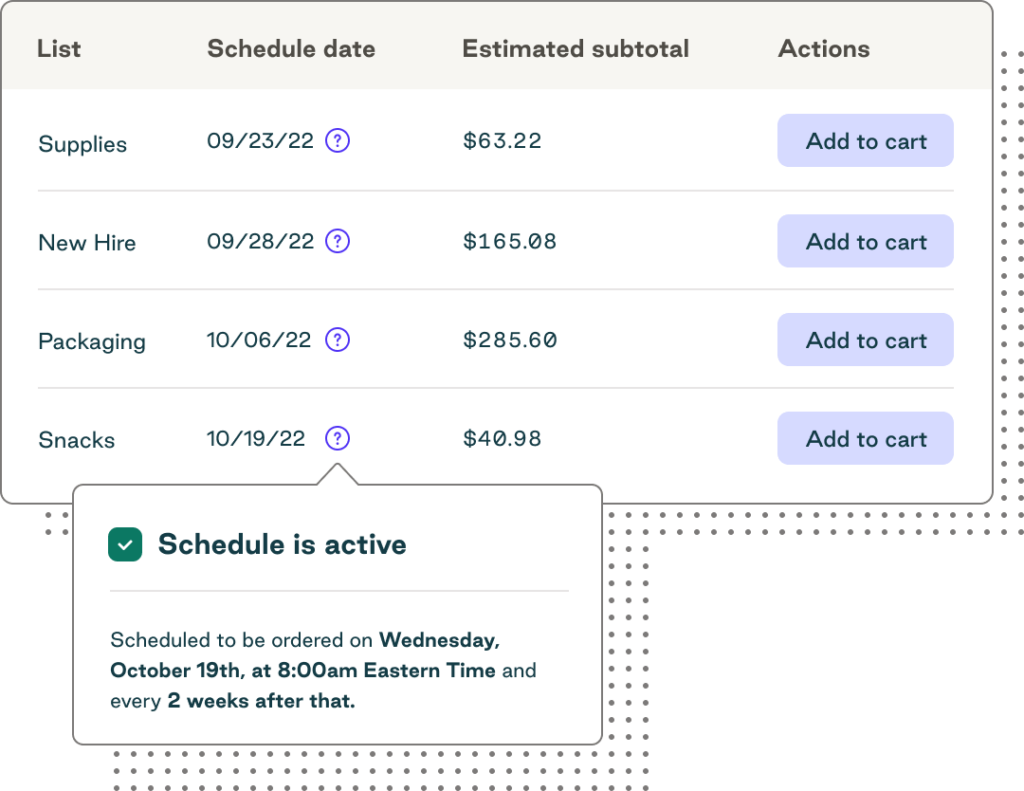 Automate your purchasing
Speed up your purchasing process and never create another purchase order again. Order automatically sends all approved purchase requests straight to your vendor. And, easily buy your frequently-purchased products based on premade shopping lists and scheduled orders.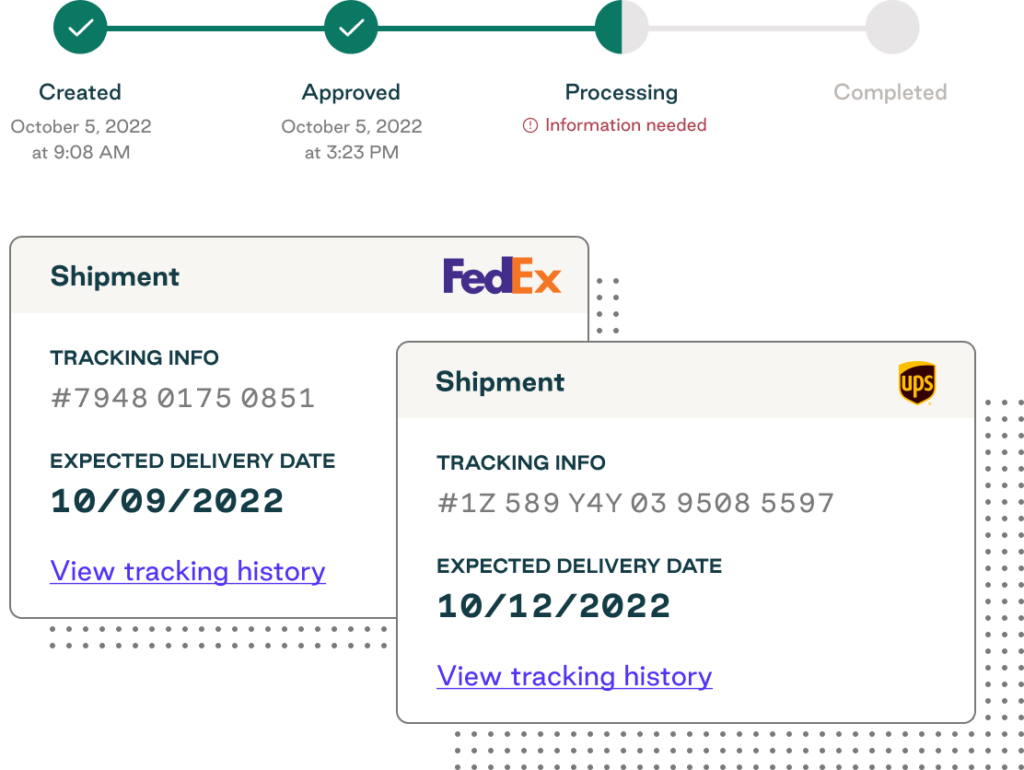 Track your orders
Stay up-to-date on your orders across all vendors by tracking their statuses — from approval to fulfillment to delivery — in one location.
Ready to simplify your
purchasing process?
Improve operational efficiency with Order
Order's dedicated Support team handles all of your manual purchasing tasks, so you can focus on growing your business.
Purchase orders,
sent.
Purchase from any vendor through Order's online platform — including vendors that require POs via email or calls. Order contacts those vendors for you.
Returns & exchanges,
resolved.
Return or exchange items with ease. Order manages all vendor communication, ensuring you get exactly what you need without the back and forth.
Order preferences,
met.
Avoid unexpected shipping fees, price increases, or lengthy delivery lead times. Order ensures your fulfillment preferences are met every time you check out.
"For retail alone, we have products from 10 different vendors, so instead of filling out order forms for each vendor for each location we can go to one place. Without Order, it would have taken us three days to place all of our orders and now it takes just a couple hours."
Operations Manager Heyday Wellness
"Being able to track all of my orders on Order, I am able to save time and energy. It's much easier, efficient, and low-stress with Order. "
Assistant Manager of Retail Operations Loro Piana
"Before, we would just notice that we were out of something and place an order. Now, our products show up automatically when we need them – it's like we're always ahead of the curve."
IT & Operations Manager Zerocater
Frequently asked questions
Order helps businesses save time on purchasing by centralizing and automating their current processes. The amount of time savings a business realizes will depend on how much time they are currently allocating towards price comparison shopping, issuing purchase orders, contacting vendors, searching for information across emails or spreadsheet, and other manual purchasing tasks.
If you're interested in learning more about saving time on your purchasing process, check out these resources.
There are several ways Order helps businesses save money. Most notably, businesses can leverage Order's expansive vendor network and negotiated rates on products. Additionally, Order can proactively source the best deals for your purchases, which can save businesses thousands of dollars. For instance, NY Kids Club saved $75,000 in a year just on product costs by purchasing through Order.
Beyond price savings on products, businesses also save money with Order by instituting budgets and a streamlined approval process. CorePower Yoga, for example, eliminated $50k in monthly rogue spend by using Order to better control its purchasing.
Yes! Order works in stride with all of your existing vendors. You can buy and pay for all of the physical goods your business needs — from any vendor — with Order.
Customizable catalogs enable you to have better control over all the purchases your organization makes. You can create a catalog with the exact products you want your team to purchase, which many businesses leverage to encourage brand standardization or control spend.
Additionally, you are able to curate a catalog for specific users, so your employees can only view and buy the products that are pre-approved for them.
If you are interested in more information about approvals and budgets, speak with the Order team today.