How Poor Invoice Management Stunts Growth And How To Fix It
Manual invoice management doesn't scale. Learn how automated invoicing can save you money while freeing your AP team from their most time-consuming tasks.
Written by:
Allison Reich
Last Updated:
November 3, 2023
Imagine walking into the office on a Monday morning, and your desk is buried in invoices.
You spend the next week manually uploading each one. You barely have time for a coffee break because the piles never actually go away. You keep at it because that's your job, and that's how your company manages invoices. But you know that next week, next month, your desk will look exactly the same.
This is reality for thousands of AP professionals. Half of the respondents to a recent IOFM survey say they are working longer hours to keep up with the rising volume of invoices. According to the data, things won't let up anytime soon. The same report showed that invoice volume increased 75% in Q1 of 2022 alone.
Download the free tool: Invoice Tracking Template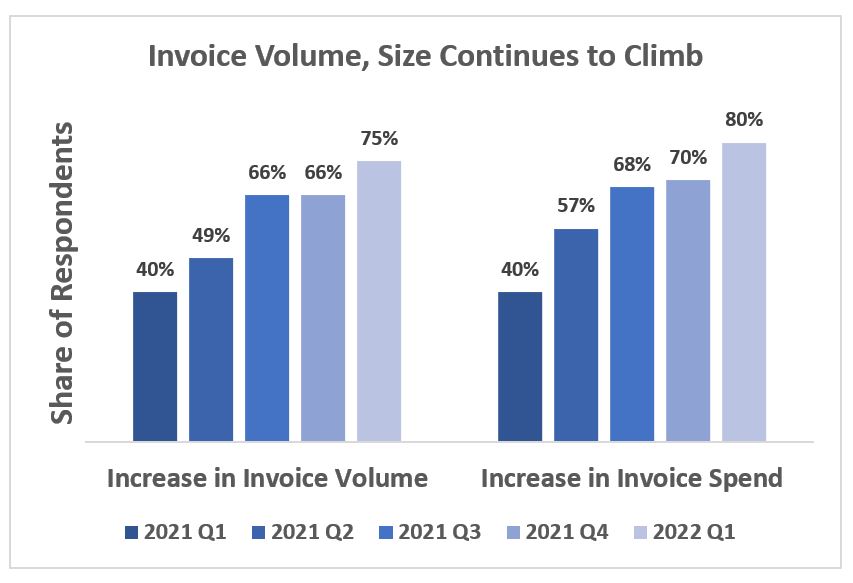 This Increase in volume and associated work are leading many accounts payable (AP) professionals to burn out, with one in four of these overworked individuals considering leaving the field as a result. Additionally, one in five AP professionals is approaching retirement age. In total, nearly 50% of the professionals surveyed are at risk of leaving the industry.
Growing a company is hard enough. Proper invoice management is a vital practice for your company and your valuable employees. Before we hop into how to fix invoice management at your company, let's first get into what exactly invoice management is—or at least what it's supposed to be.
What is invoice management?
Simply put, invoice management is a process by which a company receives, organizes, validates, pays, and records supplier invoices, in that order.
Seems easy, right? It is, but believe it or not, proper invoice management isn't as common as one might think. If you're not careful, poor invoice management can plague your company's growth and bottom line. In truth, no industry is immune to this issue.
What is the manual invoice process?
The core problem with invoice management is not the invoices themselves. Companies have to purchase products—that's a given. For many companies, even in today's world, the problem with invoices is the manual process by which they're managed.
Each invoice flowing into the company follows a process. They must be:
Entered into the system
Processed and coded
Matched against purchase requisitions and purchase orders
Approved and submitted for payment
Tracked and reconciled at month-end
Ask anyone in finance— manual invoice management is a lot of work. Not only that, if you don't keep the hundreds of paper invoices organized, like Donnie Brasco says, "Forget about it!"
The vicious cycle of poor invoice management
There is a vicious cycle when it comes to manual invoice management—especially as it relates to new and growing companies.
Growing companies buy a lot of products, especially those engaged in expanding locations. With those growth-necessitated purchases come corresponding invoices. The invoices are entered manually—given they're not misplaced beforehand—to be approved.
After approval, payments are often made via paper checks through the mail. The payments are reconciled and recorded in a spreadsheet. The wealth of information contained in the purchasing process is ignored.
A new month of purchasing begins, and the cycle repeats itself.
The time and effort it takes AP teams and finance departments to facilitate improper invoice management takes away from the effort they could invest in strengthening their department and helping spur company growth.
Without sufficient effort focused on helping the growth of the company, it's virtually impossible to gain traction. Nonetheless, the outdated manual invoice management process stays the same, and the cycle continues.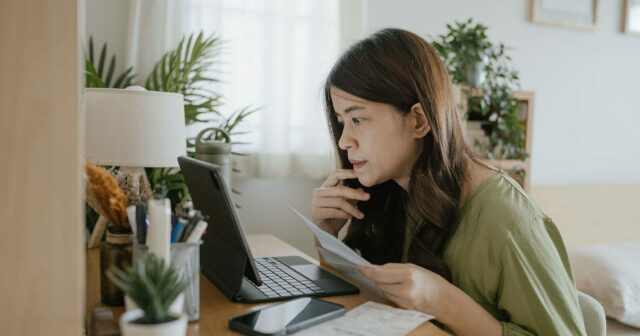 Ebook
Invoice Tracking Template
Download the invoice tracking template to avoid costly mistakes, clarify financial patterns, and track spending throughout the year.
Download the free template
Top 5 impacts of manual invoice management
Manual processing can present a host of negative impacts for organizations. These are the five most damaging:
1. Poor visibility: Manual invoice processing relies on outdated data collection methods such as spreadsheets. These manual organization methods offer no options to dynamically search through or contextualize data. This lack of visibility makes it harder to find issues as they arise, and it also robs decision makers of access to valuable information for future planning and analysis.
2. Frequent errors: Everyone makes mistakes, and overworked AP staff are bound to make their fair share. Manual entry creates an average exception rate of up to 23%. As many as one out of every five invoices has an error that either requires research and remedy or never gets detected at all. Those exceptions can add up to considerable lost revenue and time.
3. Slower processing: AP clerks can only type so fast. A skilled clerk can process an average of 5 invoices per hour. For companies generating thousands of invoices per month, the headcount required to process everything in a timely manner is prohibitive. Additionally, the manual accounts payable process usually goes hand in hand with paper checks, which leaves suppliers waiting on snail mail to receive payments. Missing or delayed mail may generate late fees.
4. Higher processing costs: It's expensive to perform manual data entry. Its expenses come from a variety of places:
Increased labor cost
Late payment fees
Invoice exception costs
5. No scalability: The most pervasive problem with manual processing is the lack of scalability. With only so many hours in the day and so many people available to process, manual entry means the problem gets worse over time. For growth-minded companies, scalable systems are the key to success. That's hard to accomplish if your AP team is constantly falling further behind.
AP automation can keep up with your company no matter how fast you scale.
What does good invoice management look like?
Manual invoicing can seriously weigh down the finance department. Fortunately, there's a better way. Automated invoice processing software converts invoice management from a days-long, high-touch process to an instantaneous, touchless event. It can streamline every step of invoice batching, matching, and processing to reconcile thousands of invoices per hour. Here's how it works:
Batching/receipt: Invoices flow into the organization from one of several channels (mail, email, or e-invoicing). Optical character recognition (OCR) scanners batch and digitize paper invoices, and invoice data is integrated into the system. Email and electronic billing go into the system automatically for validation and processing.
Reconciliation and matching: Formerly tedious processes such as invoice reconciliation and three-way matching between the purchase order, invoice, and purchase requisition happen automatically. These processes occur within the system at the time of invoice processing, eliminating the need for manual checking and re-checking of vendor payments against spreadsheets.
Approval: Invoice approval is automatically routed through approval workflows so any relevant stakeholders (for instance, finance or procurement) can sign off. The entire process happens within the system, eliminating the need for back-and-forth communication that slows down the process.
Payment: Using an integrated electronic payment method linked directly to accounting systems, the platform approves the invoice and issues an electronic payment directly to the supplier. This enables cost-saving early payment discounts.
Reporting and archiving: All centralized data is available for real-time reporting and analysis purposes. AP or other stakeholders have the ability to dynamically search for information by time period, vendor, category, department, or other search criteria.
Invoice management software can help you achieve all this and more. The best platforms can also help consolidate billing and payment into a single, automated event, saving AP hundreds of hours of work in researching and paying vendors. Instead, a single click can pay them all.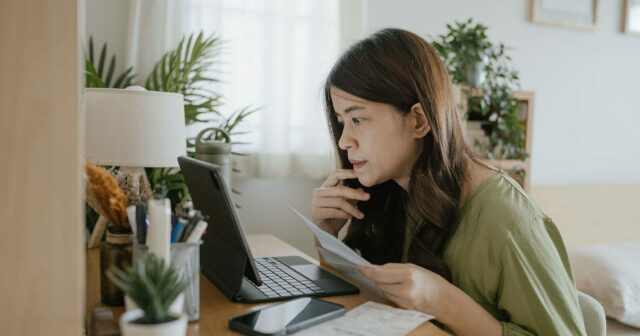 Ebook
Invoice Tracking Template
Download the invoice tracking template to avoid costly mistakes, clarify financial patterns, and track spending throughout the year.
"*" indicates required fields
Real-life examples of effective invoice management 
Let's get some real-life examples of how consolidated invoicing and proper invoice management drastically increase the productivity of finance teams and foster the exponential growth of companies.
Cutting down on the number of invoices your company has to process saves your team and company time and money. With consolidated invoices, companies can go from hundreds or thousands of invoices to just a few—or even a single invoice—every month.
Elliot Physical Therapy gets better process efficiency
Elliott Physical Therapy discovered the time and money they could save by using consolidated invoices and efficient invoice management. Finance Director Caroline Dodero calls it a "huge time saver" that "allows [Elliott PT] to focus on higher-level projects" rather than wasting numerous hours every week organizing hundreds of invoices. They are now able to pay 168 separate invoices with one click.
High Level Health consolidates the invoice process
Neil Hesse, Staff Accountant at High Level Health, was also familiar with the struggle of trying to sift through, organize, and pay hundreds of invoices a month. "I was digging through 400 pages of invoices and credit card receipts," says Neil. "And when we didn't have receipts, we didn't know what to do."
The more invoices you have to pay, the more difficult it can be to organize them. And disorganization can lead to losing track of invoices—or losing them altogether.
Now, with one weekly invoice, Neil and his team not only have a better, clearer understanding of exactly what they're purchasing, but their invoice management gives the team more time to focus on scaling their high-growth cannabis company instead of chasing paper.
Clinton Management gets payments under control
Getting a call from a vendor who says your payment is late is just awkward. Clinton Management, a property management company based out of New York, suffered this exact problem. They were trying to manage hundreds of separate invoices, which led to backlogs and overdue payments. By consolidating their invoices and keeping track of their payments, they became the gold standard for both property and invoice management.
"Our vendors aren't calling to ask where their payments are anymore," explains Purchasing Manager Nadia Nizam. When you consolidate all your invoices into one, paper stacks go away, and you can see exactly whom you owe and ensure they are paid on time.
Free yourself from invoice management with Order.co
Order.co consolidates your invoices and automates many of the manual processes that bog down invoice management. The platform centralizes invoice management and brings you a competitive advantage, free from the chaos of keeping track of invoices. Never again will you ask, "Where did I put that invoice?" or "Did I pay that vendor yet?"
Establishing a good invoice management process is an essential part of scaling your business—without it, you'll be stuck in the vicious cycle of invoice overload, with no clear way out. For companies looking to tighten up their invoice management system (and let their finance teams sleep better at night), that's where we come in.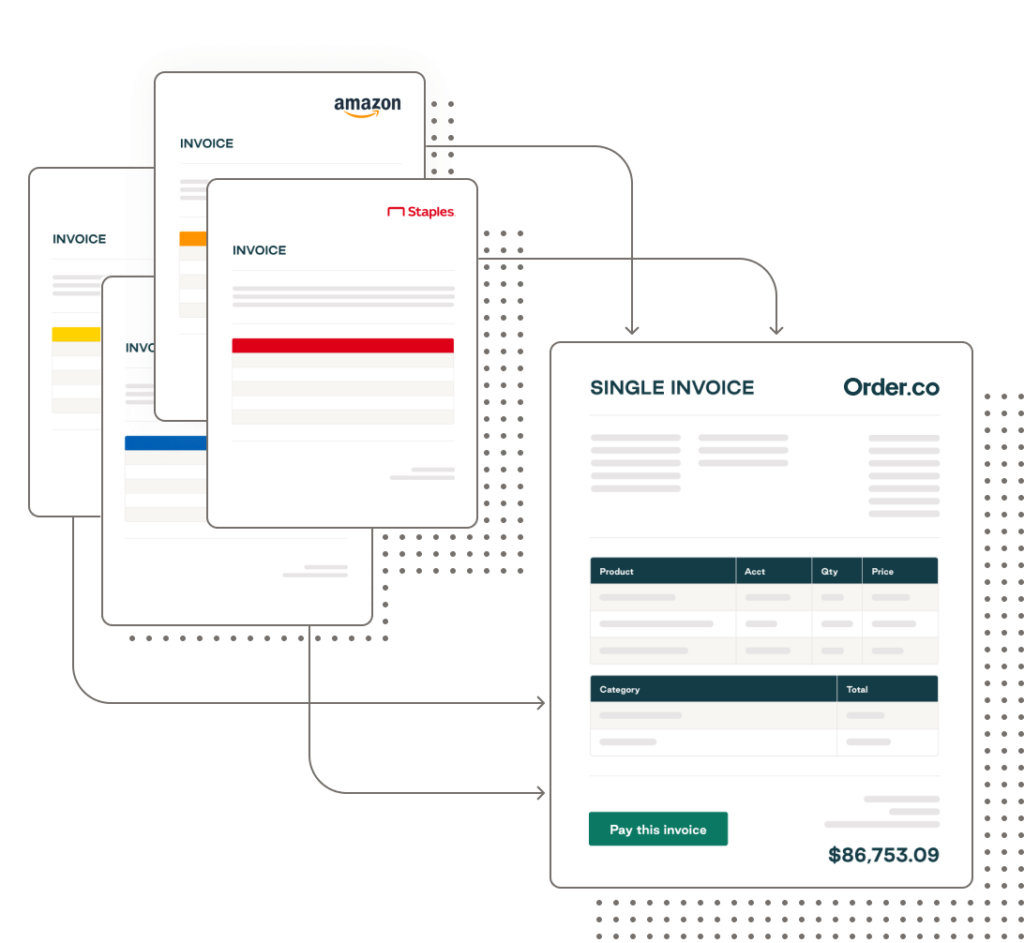 Order.co's invoice automation features help some of the world's fastest-growing companies streamline their invoicing and payment processes. Reduce manual entry, increase productivity, improve invoice management, and consolidate payments, all within one robust automation software tool.
Schedule a demo with one of our team members if you'd like to see exactly what Order.co can do for your business.
Get started
Schedule a demo to see how Order.co can simplify buying for your business.
"*" indicates required fields