Vendor Risk Management Checklist
Download our easy-to-use vendor risk management checklist to better manage third-party risk and establish stronger vendor lifecycle management practices.
Written by:
Mark Saltarelli
Published:
October 13, 2023
Evaluating vendor risk can save organizations thousands of dollars in mitigation costs and countless hours of research, as well as prevent hard-to-quantify losses like reputational damage and disruptions to business continuity.
Conducting an assessment of vendor risk is much easier when the right tools are available. We built an easy-to-use vendor risk management checklist to assist companies in better managing third-party risk and establishing stronger vendor lifecycle management practices.
How to use this vendor risk management checklist
You can download your copy of the vendor risk management checklist here. The downloadable Excel worksheet is a template, so you can customize risk items to suit your individual needs. 
Our vendor risk checklist helps procurement, finance, or executive teams evaluate new or existing vendors on the most critical categories for third-party risk, including:
Regulatory compliance
IT/security
Financial
Operational
Reputational
Strategic
Each category provides a set of common risk factors and vulnerabilities to consider and score on a scale of 1 to 3. The worksheet calculates the average risk score by category and calculates an overall risk score and level.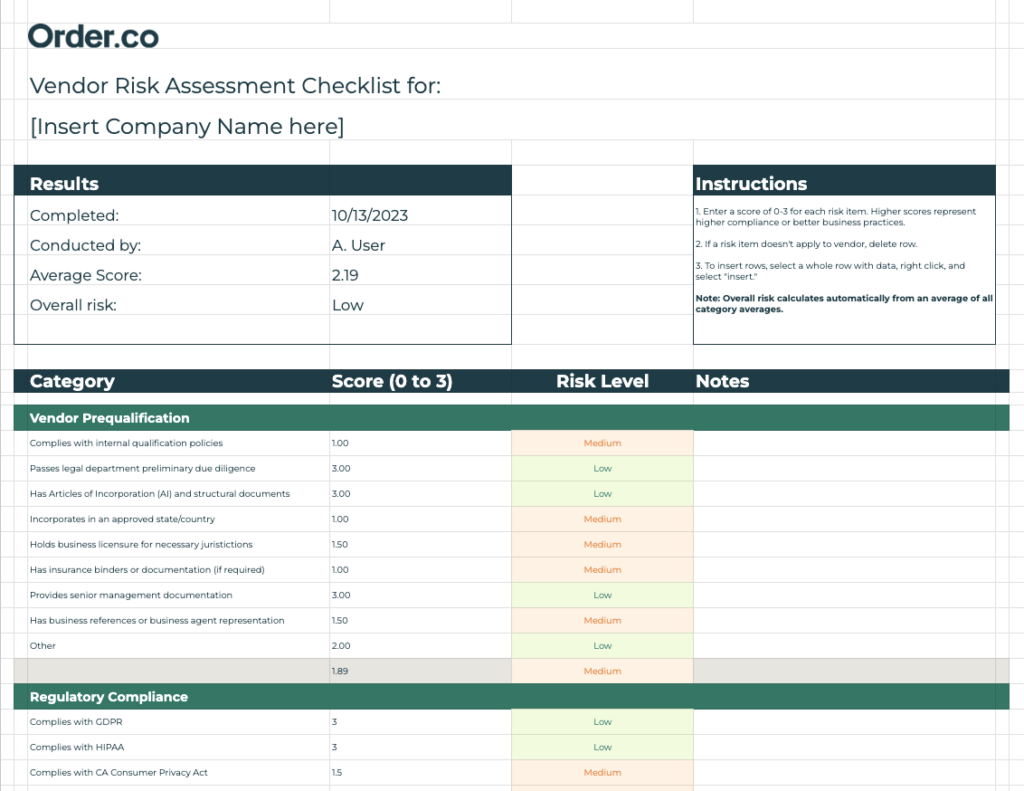 Ebook
Vendor Risk Management Checklist
Download our free vendor risk management checklist to better manage third-party risk and establish stronger vendor lifecycle management practices.
Download the checklist
What is vendor risk management?
Third-party risk is a growing concern for organizations, who rightly see their interactions and data-sharing with outside parties as a potential source of exposure. Implementing vendor risk management serves to identify, assess, monitor, and mitigate the risks associated with business partners or vendors.
This process helps companies understand how vendors operate, handle data, and secure their systems to protect business and customer interests. Risk management and vendor due diligence are vital to ensure all of an organization's contracted vendors comply with all laws and regulations.
Key elements of third-party risk management include:
Due diligence and strategic vendor sourcing
Standardized contract language and minimum risk requirements
Policy building to address and mitigate third-party risk
Auditing current vendors for compliance
Implementing internal information security controls for vendors
Monitoring vendor performance against contracts
What is vendor lifecycle management?
Once an organization contracts with a vendor, the lifecycle management process begins. Vendor lifecycle management (VLM) is a portion of vendor management that monitors existing vendor relationships for potential risks.
VLM continues throughout the contractual relationship, from onboarding to renewal or termination. Companies use VLM to monitor changes in the vendor's operations or capabilities over time and identify potential risks before they become an issue. The goal of VLM is to establish clear expectations for both parties, reduce risk, and streamline vendor management processes.
Benefits of vendor risk management
Risk affects businesses in many different ways. Contract issues and data security incidents are oft-cited problems associated with third-party vendors.
However, even in the absence of major issues like cyberattacks, poor third-party risk assessment makes it more expensive and time-consuming to run a business. Managing vendor risk ensures the company partners with the right vendors and has the information and relationship to maintain high-quality service for the long term.
The following three benefits make improving risk management practices well worth the effort.
Lower costs: A strong vendor risk management program lowers costs for an organization in several ways. First, it streamlines the list of existing and new vendors to include only high-quality, responsive supply chain partners. This allows companies to build stronger rapport with a smaller number of vendors, which enables better negotiations.
When properly implemented, vendor risk management identifies issues early, allowing companies to stay proactive in risk management. This ensures that the organization is not subject to additional costs due to unforeseen circumstances. For example, suppose a vendor has a history of missing contractual obligations. In that case, the organization can create contractual safeguards prior to this becoming an issue, or it can select a different vendor.
Stronger operations: Risk management allows organizations to closely monitor vendor relationships. It helps leaders identify risks more quickly and take appropriate measures to mitigate them. Ongoing diligence reduces or eliminates unexpected vendor behavior, lessens the risk of intentional and unintentional data breaches, minimizes last-minute purchasing changes or rush orders, and increases visibility into the financial and operational practices of partnerships. All these perks improve daily operations and make the procurement process more predictable.
Better supplier relationships: Better vendor relationships yield more strategic, cooperative, and competitive service from suppliers. Building strategic partnerships with long-term suppliers allows consistent oversight of vendor performance. It also increases assistance in the form of flexible contract terms, better net terms for repayment, increased support during issues or disruptions, and more consistent supply quality and availability.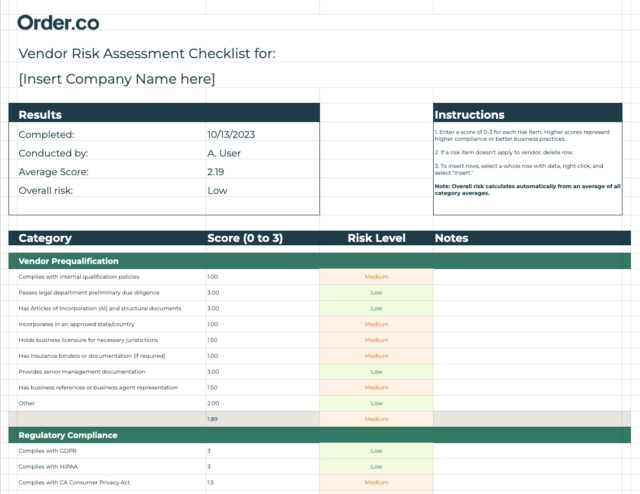 Ebook
Vendor Risk Management Checklist
Download our free vendor risk management checklist to better manage third-party risk and establish stronger vendor lifecycle management practices.
"*" indicates required fields
5 Steps for better vendor risk management
Vendor risk management works best when it's a continuous process of vetting, onboarding, evaluating, and refining supplier relationships.
To begin tracking performance and risk metrics for new and existing vendors, start with these four steps:
1. Document vendor risk management policies and processes
Documenting risk policies is an important part of vendor risk management. A formal policy outlines the relevant standards, guidelines, and procedures related to managing vendor risk. It also includes assessment criteria for risk factors associated with each supplier, such as financial stability or compliance with vendor security protocols.
The vendor lifecycle management program should outline procedures for every stage of vendor engagement, from sourcing vendors to renewing or terminating them.
Sourcing: The vendor selection process works best when the departmental table stakes are known and documented. Building a strong sourcing policy and parameters ensures stakeholders select strong vendors from the first interaction — long before negotiations begin.
Onboarding: When companies improve the vendor onboarding experience, it sets the right tone for a successful long-term partnership. Create a structure for the onboarding process and outline the information and documents needed to set up a vendor profile. This includes insurance binders, invoicing information, accounts for payment, and executed contract documents. Centralizing this data saves hours of searching in the event of an issue.
Management: During the vendor relationship, regularly review each vendor's contract performance and success metrics. Check common stats such as compliance metrics, delivery exceptions, price adjustments, or other indicators of change in the relationship. Review this data during contract renewals or as an annual review of multi-year agreements.
Fulfillment: Measure delivery performance against the agreed-upon contract terms, taking note of changes in quality, accuracy, timeliness, and exception handling. Fulfillment is the true test of contract negotiations and supplier relationships, so measuring this component of vendor performance is especially important. Changes in delivery quality, price, or consistency sometimes signal larger issues like fraud, so consistent monitoring is a high priority.
Renewal/termination: How a company renews or offboards a supplier is just as important as how it onboards them. Establish a strong and clear supplier renewal or termination process. Discuss performance according to metrics, noting areas of particular success and those needing improvement. In the case of ending a contract, review performance to ensure compliance with termination clauses such as data preservation, data deletion, and physical and virtual access controls.
2. Collect data on current vendor contracts
Centralizing vendor data makes it easier to review performance metrics and identify areas needing improvement.
When onboarding a vendor, collect the following:
Point of contact information
Pricing, payment terms, and delivery schedules
Copy of the most recent contract
Price and delivery performance metrics
Known risk information such as previous assessments
Knowing this information, especially who to contact in case of an issue, helps your organization prepare for unexpected events. With comprehensive vendor data in a centralized location, stakeholders have the information and metrics to evaluate and update risk information.
3. Establish performance metrics for vendor management
Establishing performance metrics for vendor risk management should be part of an ongoing vendor management program. Key metrics include supplier onboarding and offboarding times, performance ratings, and customer satisfaction scores. Developing these metrics ensures the risk management program is effective and allows any issues or concerns to be quickly addressed. Additionally, consider using benchmarking data from industry peers to ensure your program aligns with best practices.
When developing performance metrics, choose those that align with the goals of your risk management program, such as:
Number of third-party vendor integrations
Delivery exception rates
Damage rates
Time from last known data breach
Average uptime percentage
Time to issue detection
Time to issue resolution
Number of unmitigated risks
Net promoter score (NPS)
Security questionnaire response
Disaster recovery documentation
Previous security ratings
4. Build a vendor risk audit methodology
The vendor management audit process should look at each vendor's ability to protect sensitive data and assets, understand the vendor's operational and IT security practices, and evaluate the effectiveness of its internal risk management practices. This process includes reviewing existing policies and procedures and testing for technical compliance with industry standards.
A risk management audit should also examine vendor personnel processes such as background check protocols, security training, and incident response plans. Include bi-annual reviews to identify changes in the vendor's environment or business operations that may increase risk.
For software and portal-based service providers, periodic system scans should be conducted on vendors' networks to ensure they are updated with patches, vulnerability scanning protocols, and logging policies.
All evaluation activities should appear on audit reports or vendor report cards. This way, businesses can track changes and have a reference of historical vendor data and trends.
5. Use a vendor assessment framework
A vendor risk assessment framework standardizes the evaluation process for suppliers. It considers factors like operational risk, financial performance, third-party relationships, and management oversight.
To ensure accuracy, timeliness, and exception handling in the assessment process, consider automating workflows with technology and analytics. Establish assessment criteria and evaluate compliance to determine when suppliers must be offboarded. By regularly reviewing vendor risk, you build better supplier relationships and prevent potential fraud.
Let Order.co help you build risk-reduced procurement
Order.co offers organizations a highly secure and streamlined solution for procurement management, and it works with vendors you already know and trust.
If building a more resilient vendor management program is a priority within your organization, download this free vendor risk assessment template to measure and quantify vendor risks across every important category.
Get started
Schedule a demo to see how Order.co can simplify buying for your business.
"*" indicates required fields