7 Best Gym Softwares for Running Your Fitness Center
Growing a gym business is complex. But with the best gym software tools, the process becomes much easier. See our top picks in every category.
Written by:
Mark Saltarelli
Published:
August 3, 2023
Running a successful gym is a difficult venture. There are over 115,000 gym-related businesses in the US, such as gyms, martial arts studios, personal trainers, health clubs, yoga studios, and more. More than 650 gym and fitness brands are established franchises. This steady stream of competition makes it hard to stand out from the crowd and draw in new customers. Competition also drives up the cost of running a business, as gym owners must compete with both their rivals and rising expenses.
To ensure a gym remains successful in this difficult landscape, technology is an increasingly important tool for marketing, member management, and operations. Technology allows gym owners to track customer behavior, analyze trends, run marketing campaigns, procure supplies, and more — all valuable avenues for driving success amongst competitors.
The software landscape is flush with options for running your gym business, and choosing the right one to meet your business needs can be overwhelming. This article shares the highest-rated tools across seven vital software categories and details the features and functions that make them stand out. 
Download the free ebook: Fueling Your Fitness Business's Growth with Centralized Purchasing
What is gym management software?
Gym management software is designed to help gym owners, managers, and operators streamline their administrative tasks. It aids gyms in employee scheduling, membership management, billing and invoicing, marketing automation, and more. Software can even create custom membership plans for members by tracking attendance and use of different gym areas.
Software helps gym owners handle their business operations more efficiently with automated processes that include customer relationship management (CRM) and inventory control. By using a comprehensive suite of tools for managing and organizing data related to gym activities, gym management software offers greater insight into operations while reducing costs associated with manual processes.
Why do gyms need to use management software?
Running a gym is a multifaceted job, incorporating elements of retail, hospitality, customer support, and subscription services. A successful gym must combine all these elements into an easy-to-run, scalable business model. Technology greatly improves the outcomes for gyms, providing a mix of benefits that help small businesses do more with less.
Increased operational efficiency: Gym management software saves time by automating tasks like employee scheduling, membership management, billing, and invoicing. The result is a well-run gym that spends less on management and labor costs, resulting in higher profit margins and additional money for growth.
Customization: Software allows gym owners to create personalized marketing and service plans for members based on target demographics and market segments. Using a gym management tech stack, owners track attendance, monitor usage, develop targeted offers, and enhance current services with personalization. This results in better customer retention and more net new memberships.
Data management: Gym businesses produce a wealth of data. But this data is only beneficial if owners harness and contextualize it. Software tools help owners track business-related activities and information, including:
Finance and revenue data
Customer relationship management (CRM)
Inventory control
Marketing performance
Competitive analysis
Spend management
Data management and reporting tools help gym owners gain greater insight into their operations, reduce costs, and find ways to support growth.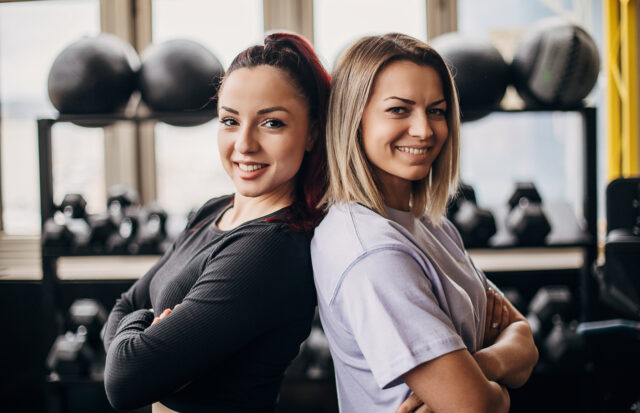 Ebook
Fueling Your Fitness Business's Growth with Centralized Purchasing
Major fitness businesses like CorePower Yoga, [solidcore], and SoulCycle have automated their purchasing process to drive sustainable growth. Read the eBook to learn how you can too.
Download the ebook
5 Key challenges facing gym businesses
Gym owners face a variety of challenges in building systems and administering processes for their businesses. The right software in each business area helps owners address these issues and create a thriving and sustainable business.
Cost: Gyms face challenges in keeping costs low while dealing with rising expenses like utilities, equipment, consumable products, payroll, and rent. To stay profitable, gyms must employ cost management strategies.
Spend management tools help identify inefficiencies, optimize spending, and gain insight into key metrics like revenue, expenses, inventory, and customer data. They help owners reduce costs while providing excellent service by analyzing visit frequency and purchase history.
Scalability: As the gym industry expands, scalability becomes crucial. Planning for growth is vital to maintain a consistent customer base and optimize revenue. Technology offers automated solutions to streamline processes, including CRM software for client interactions, inventory management tools for efficiency, and finance tracking tools for cash optimization. Automated software helps contextualize data with metrics to track sales, customer satisfaction, marketing ROI, and purchasing spend. Savvy owners leverage technology and automation to prepare for growth without compromising service or jeopardizing financial stability.
Data visibility: Data is valuable, but only when properly packaged. Improving data visibility is vital for driving growth opportunities. With the right software, owners can gain insights into consumer behavior and financial performance and find opportunities to improve. This helps them allocate resources more effectively to boost growth and expand into new areas and specialties.
Member management: Managing a large gym membership base is complex, and manually managing different types of memberships and offers is time-consuming and tedious. Automated software helps streamline membership operations and track repetitive tasks like processing billing statements, receiving payments, monitoring loyalty programs, and more. This allows the gym to manage its membership efficiently while providing a better customer experience.
Purchasing: Overhead is a significant part of a gym's expenses and one of the primary issues that can cause a business to close. Studio managers procure everything from towels and paper products to cleaning supplies, PPE (personal protective equipment), and combination locks. Procurement platforms help manage gym purchases to lower costs and reduce waste. By utilizing automated procurement tools, gym owners easily compare prices across vendors and identify the best options for their needs. This helps them save money while maintaining competitive pricing and developing beneficial vendor relationships. With software, gyms can track their purchase histories and trends, forecast future needs, and purchase in bulk to take advantage of volume discounts.
What should you look for in a gym management software tool?
There is a world of choice regarding gym software for your new or growing business. Finding the right set of tools requires identifying what the business needs, what it can afford, and how many members it will serve now and in the future.
There is no one-size-fits-all tool for these purposes, but every category offers robust and flexible options that serve most small to mid-sized businesses.
In general, look for the following five characteristics in any software you evaluate for your business:
Cloud-based: Cloud-based services store and access data on the internet instead of physical servers or hard drives. They provide flexibility, allowing access from anywhere, and they also promote easy data sharing among users. Moreover, they offer enhanced security through data redundancy and scheduled backups.
For businesses like gyms, cloud-based services are optimal, letting members manage their accounts and access the software from anywhere. Members use software for remote check-ins to classes or facilities, membership updates, and payment tracking. Cloud-based services keep data in one place, streamlining membership management and payment tracking for staff while enabling businesses to add users or modify offerings without disruption.
Microservice-based: A microservice is a type of software tool that helps businesses manage a small aspect of their operations. Unlike traditional monolithic applications built on one large all-in-one platform, microservice tech stacks comprise smaller, best-in-breed tools independently managed through APIs. Microservices create greater agility and scalability for businesses, allowing them to easily add or change features without disrupting the existing codebase.
Microservices are an easier way for gym management systems to access customer data and records from different sources without needing an on-site server. An issue with one microservice won't affect the others, which reduces customer disruptions. Microservices also allow more flexibility for customizing member offers. Depending on what members or customers need, gyms adjust services accordingly and deploy them without setbacks.
Flexible: Gym management tools must help owners provide an optimal user experience. Customers have different preferences, so gym management systems must be agile enough to accommodate varying needs. Flexible software systems make it easy for gyms to tailor events, packages, and services to customer requirements. This gives well-managed gyms a competitive advantage and allows customers more control over their self-service and staff-led experiences.
Scalable: A growing business relies on systems that grow with the company. As the customer base grows, operations and services must keep pace without bogging down staff or processes. A scalable software system enables gyms to quickly adapt as their customer base expands. This reduces downtime and increases efficiency in meeting member needs.
With a scalable system, a gym can quickly respond to changing marketplace demand and increase its capacity without compromising on quality of service. This versatility gives growing gyms the agility to stay ahead in a competitive industry.
Integration-ready: Software systems with strong integration capabilities provide a great advantage for gyms. Integration allows different microsystems and platforms to communicate, letting business users access data from multiple devices and locations. This makes it easier to track customer information, manage customer accounts, and handle operations like billing without errors or data redundancy.
With strong integration capabilities, gym administrators quickly access data in multiple formats and use it in various ways, whether setting up a new marketing campaign, running a membership drive, or planning budgets.
Value-focused: Cost isn't everything, but value is. Considering total value is a better approach for gym administrators than evaluating software based on simple bottom-line cost. Value-focused software offers insight into long-term benefits like streamlined operations, improved customer experience, and cost reduction. Integrated systems save time and money on manual data entry and increase customer satisfaction. Modern programs also provide analytics to track performance over time, which delivers valuable insights.
Select a software tool that meets these criteria, and your business can expect fast, reliable performance in a flexible and growth-minded framework without blowing the software budget.
What categories of gym software should you consider?
When creating a technical plan for a new or scaling gym, considering the following SaaS categories is instrumental in creating and executing a sustainable business plan. These tools help gyms market themselves, support customers, handle daily operations, and manage finances more effectively than manual processes.
1. Gym management
Gym and fitness club management software is a specialized customer relationship management software solution. It's designed to help gyms and fitness studios centralize customer data, streamline sales and marketing efforts, manage real-time attendance tracking and class scheduling, and automate billing and payment processes. It allows staff to focus on gaining new members and leading training sessions versus dealing with administrative tasks.
Best in category: PushPress
PushPress is the best gym membership management software for helping gyms efficiently manage their customer base. It offers administrative tools to manage and control memberships, track usage patterns, and automate billing and payment processes. PushPress also offers real-time attendance tracking, allowing staff to easily monitor members and keep up with daily operations.
Top features:
Customer relationship management tools
Customizable membership features
Integration with website tools
Workflow automation
Why users love it:
User-friendly client interface makes sign-up fast and seamless
Integration capabilities with other gym-focused software tools
Strong feature roadmap that continues to add value for customers over time
Responsive, engaged customer support experience
Pricing:
PushPress offers a tiered pricing model with a free plan for new or smaller gyms just starting with software systems. The pro tier starts at $159 per month, and the max tier at $229 per month.
2. Contracts software
Contract management software enables gym marketers to efficiently manage customer contracts. It allows users to create and track membership and vendor contracts, automate notifications for renewals, monitor contract progress, and generate performance reports. It helps identify opportunities to improve terms or processes, negotiate better deals, ensure compliance, and offer transparency. Using this software, users streamline contract management, save time, and keep all parties informed throughout the relationship.
Best in category: PandaDoc
PandaDoc is an ideal contract management solution for gym owners. It generates contracts, automates notifications and signature reminders, tracks progress, and creates reports. With PandaDoc's intuitive interface, users easily locate contracts and access documents with a single click. It also provides automated tracking of document progress to ensure compliance. PandaDoc's state-of-the-art encryption ensures sensitive data is secure at all times.
Top features:
Easy contract sharing
Fast document creation and review
Integration tools
Why users love it:
Intuitive design with strong optical character recognition (OCR) and predictive document conversion capabilities
High-quality customer support resources and support team to make administering contracts easier
Waiver feature for ensuring compliance with legal requirements for insurance and safety
Pricing:
PandaDoc offers an essentials package for small business owners starting at $19 per user per month. Higher-tier packages for teams start at $49 per user per month, with custom options available.
3. Marketing automation
Automated marketing tools streamline, automate, and measure marketing tasks across online platforms. They help gyms target customers effectively with personalized messaging to boost engagement, covering the following aspects of digital marketing:
Email campaigns
Lead nurturing
Web analytics
Social media
Paid advertising
Organic and paid search
Content creation
Live customer support
Automation handles the many manual tasks involved in marketing, streamlines multi-channel communication, and segments customers so gym marketers can save time and enhance member relationships.
Best in category: HubSpot Marketing
HubSpot Marketing Hub is a comprehensive automation suite that helps businesses of all sizes deliver personalized messages across multiple channels. The software includes features such as email campaigns, lead nurturing, web analytics, and social media management. It also enables paid advertising, organic and paid search marketing, and content creation to help gyms maximize their reach and engagement with members.
Top features:
Lead generation features
Marketing automation
CMS tools with drag-and-drop ease of use
Why users love it:
Its features and resources help new users navigate the platform to create and monitor content
Extensive support through documentation, templates, how-to materials, certifications, and full marketing courses via HubSpot Academy
Plentiful free tools to help small businesses improve their marketing and scale their business over time
Pricing:
HubSpot offers a pricing tier for every customer, from a free program for those just beginning to custom enterprise-tier packages starting at $3500 per month.
Just starting out? Those looking for a more budget-friendly option often choose ActiveCampaign for many of the same tools at a more competitive price point for small to medium businesses.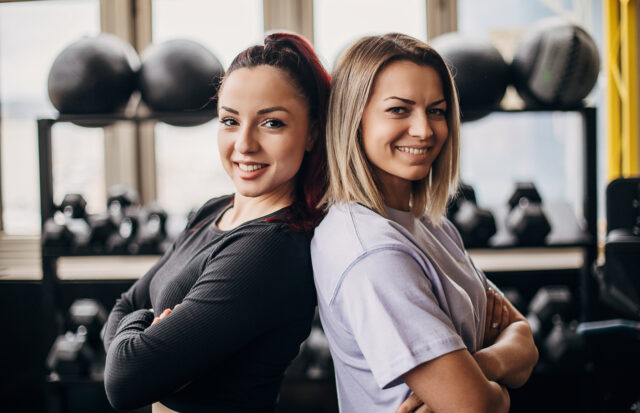 Ebook
Fueling Your Fitness Business's Growth with Centralized Purchasing
Major fitness businesses like CorePower Yoga, [solidcore], and SoulCycle have automated their purchasing process to drive sustainable growth. Read the eBook to learn how you can too.
"*" indicates required fields
4. Social media management
Social management software allows gym marketers to manage their presence on social media platforms like Instagram, LinkedIn, Facebook, and TikTok. It helps gyms create, schedule, and post content across multiple social networks. This software also offers analytics to measure engagement and understand user behavior. Furthermore, it enables gyms to track conversations related to their brand and engage with customers in real time. Social media management tools can also help gyms track campaigns for ROI and optimize customer service activities.
Best in category: HootSuite
HootSuite is an intuitive, affordable social media management tool for companies of any size. It offers features that streamline social media activities, simplify scheduling, boost content creation, administer engagement tracking, and analyze social data. Users monitor brand conversations, engage with customers in real time, and optimize campaigns with preset workflows. With Hootsuite's easy navigation and drag-and-drop functionality, marketers quickly create professional content that delivers results.
Top features:
Automated inbox for social engagement
Omnichannel content planning features
Trend analysis tools
Why users love it:
Intuitive interface with features like draft saving and future post scheduling for busy owners and marketers
Multiple account management that enables batch posting from within a single platform
Competitive pricing for small businesses with features found in higher-priced options
Pricing:
Hootsuite allows small businesses to manage their social media presence for as little as $99 per month. The tiered pricing system grows with the company, with more advanced tier packages ranging from $250 to $750 per month. Custom enterprise solutions are also available.
5. Point of sale (POS) systems
Point of sale (POS) systems are software applications that allow gyms to process sales transactions and streamline operational processes. They enable users to quickly accept in-person payments, track inventory, manage customer loyalty programs, process digital receipts, and generate reports to analyze performance. By leveraging a POS system, gym marketers optimize their customer service workflow and ensure efficient operations.
Best in category: Square
Square is an intuitive and comprehensive POS software offering key features for small and large gyms alike. It enables owners to quickly manage sales, track inventory, run reports, process digital receipts, accept in-person payments, and generate detailed analytics on performance. With Square's POS system, gym operators easily optimize their retail process and streamline their operational workflow.
Top features:
Multi-currency payments, including gift card features
Integrated inventory management
Same-day payment bank transfers
Why users love it:
Simple, easy-to-understand payment processing system that speeds the order process
Streamlined software features to enable financial decisions and cash flow management
Clean customer interface for a better user experience
Pricing:
Square doesn't charge setup fees or sneak in hidden charges. Pricing starts at 2.6 percent plus a $0.10 processing fee per transaction.
6. Loyalty program tools
Loyalty program software lets gym managers create specialized rewards programs for their customers. This type of software allows gym marketers to effectively track customer interactions, automate rewards and discounts, and manage loyalty points. With these capabilities, gym managers can engage existing customers while incentivizing new ones. Loyalty tools let gyms turn first-time visitors into members and brand ambassadors.
Best in category: LoyaltyLion
LoyaltyLion is the leading loyalty program software for gyms, fitness centers, and other retail and service-based businesses. The customizable platform allows managers to tailor rewards programs and discounts to their customer base. It can also be used to track customer interactions, manage loyalty points, and incentivize new customers. With LoyaltyLion, gym marketers have the power to create a unique member experience that keeps customers engaged and helps them build brand loyalty.
Top features:
Program data analytics
Customer priority reporting
Community development tools
Why users love it:
Easy setup and customization for new rewards programs, with integration features for more flexibility
Analytics tools help identify and target priority customers, look at churn, and make data-informed decisions about programs
Administrative dashboard is easy to use, and customer support is responsive to questions or concerns
Pricing:
The LoyaltyLion Classic plan starts at $399 per month, with higher-tier plans priced based on customized quotes.
7. Procurement
Gyms need equipment, supplies, and inventory to keep members healthy and happy. Procurement software helps gym owners manage ordering and purchasing so they can focus on other tasks. It enables the supply chain process, allowing managers to quickly and easily order equipment, supplies, and services. It also improves cost control, helping gym owners maximize their spending while keeping members satisfied with quality products and services. By providing accurate inventory tracking and streamlined purchase orders, procurement software helps gym managers keep costs down while ensuring members have access to the best equipment and affordable services.
Best in category: Order.co
Order.co is a comprehensive procurement platform that helps gym owners manage ordering and purchasing supplies and equipment quickly and efficiently. Its intuitive user interface helps managers streamline the entire process, from creating purchase orders and easy-to-use catalogs to tracking spend. The system allows multi-location gyms to easily manage ordering supplies for all locations.
Order.co provides detailed cost control tools for better planning and expenditure management. With Order.co, users ensure owners access the best equipment, supplies, and services while keeping costs down.
The platform also features working capital management and finance tools that give gyms access to much-needed capital to build out locations, increase growth, and drive revenue. Order Capital gives gyms access to up to $500,000 in financing to use with their preferred vendors, with low finance fees, extended net terms, and minimal paperwork.
Top features:
Spend management and analytics
Automatic GL coding for spend tracking
Curated product catalogs and spend control rules
Financing and extended net terms
Why users love it:
Easy-to-use interface with plug-ins for quick cart ads directly from vendor websites
Similar item search features to ensure out-of-stock items are replaced with other high-quality products
Strong onboarding resources and customer support for help with customizations or order issues
Ability to identify cost-saving opportunities and reduce unnecessary or unauthorized spending
Use Order.co to get your gym procurement into shape
World-class fitness businesses such as CorePower Yoga, [solidcore], Orange Theory, and SoulCycle use Order.co to control costs and streamline procurement.
Spend efficiency software helps fitness businesses control costs, streamline purchasing and logistics, and ensure your gym has everything it needs to delight your members.
If your gym or fitness brand could benefit from spend management software, request a demo of Order.co today.
Get started
Schedule a demo to see how Order.co can simplifying buying for your business.
"*" indicates required fields