Invoice Tracking Template
Invoice tracking templates help avoid costly mistakes, clarify financial patterns, and track spending throughout the year. Download our free template today.
Written by:
Mark Saltarelli
Last Updated:
August 28, 2023
Missing a payment — or duplicating one — can be a costly and time-consuming mistake. Without a way to manage an organization's increasing flow of invoices, mistakes like these lead to unnecessary fees and wasted time while taking a bite out of company revenue. On the other hand, a strong invoice management system opens the door to potential savings, improved supplier response, and faster service.
Small business owners may think they need a complicated accounting system to keep track of invoices. While the right software will definitely help you save as you grow, a simple invoice tracking system, like an Excel-based invoice tracking spreadsheet, might be just the thing to organize payments and keep on top of upcoming deadlines.
We built this free Invoice Tracker Template to help you quickly and easily track invoices. Not only will it help you avoid costly mistakes, it even has extra features that clarify financial patterns and help track spending throughout the year.
How to use Order.co's free invoice tracker:
Open with Microsoft Excel.
Enter data into each field of the invoice tracking template as described below:
Due date
Customer name
Invoice number
Invoice date
Total amount
Paid to date
Remaining
Payment date
Category
Save a copy locally and share it with relevant stakeholders.
How to make the most of the invoice tracker:
The invoice tracker template provides a simple way to view all invoices currently in process. It also provides two views of the raw data to show invoice totals over time and spending by category. Here's how to enter and view data:
Invoice overview tab:
Enter each invoice into a row of the tracker, adding as much detail as possible. The invoice date, total and remaining amounts, and category are tied to the pivot charts in the monthly invoice totals and spend totals by category tabs, so these are required fields for accurate calculations.
Use the drop-downs in the column headers to sort or filter information.
If you need to add rows, right-click the row indicator to the left of the last blank row, select 'insert rows' and choose 'insert above.'
Spend totals by category and monthly invoice totals tabs:
The spend totals by category and monthly invoice totals tabs use pivot charts to break down your primary spreadsheet information and show totals broken out by respective views.
After entering new invoices in the overview tab, update the chart information by selecting 'data' from the ribbon and clicking 'refresh all.' This will populate the new invoice data into the charts.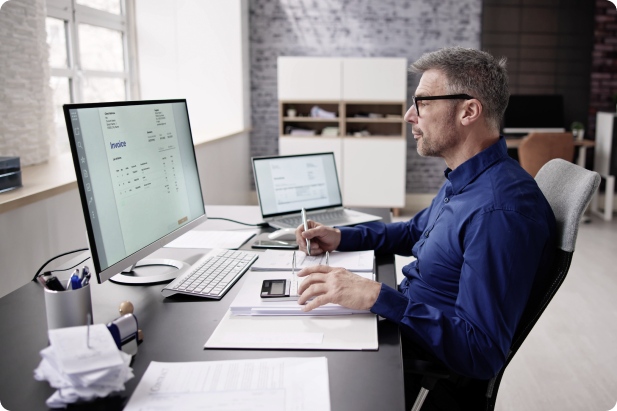 Ebook
Invoice Tracking Template
Download the invoice tracking template to avoid costly mistakes, clarify financial patterns, and track spending throughout the year.
Download the tool
What is an invoice tracker?
Organization is key to maintaining accounts in good standing with vendors and service providers. A business invoice tracker is a spreadsheet or platform that gives the finance team a central location to log invoices, track payment statuses, and analyze trends in spending over time or across categories.
A few things to know about tracking invoices:
Invoice trackers don't need to be complex to be effective. All you need is the pertinent information for each invoice and a way to mark them as paid, unpaid, or partially paid.
Businesses that pay invoices across multiple locations often need strong invoice tracking to avoid potential duplicates or missed payments. This requires a central place for locations to report invoices generated individually.
Invoice tracking is important for early-stage companies where cash liquidity may work on a tighter margin, but even mature organizations benefit from a strong invoice management practice.
What are the benefits of an invoice tracker?
Tracking invoices and ensuring their timely payment is about more than avoiding fees. It improves many areas of operations internally while strengthening your position.
Lower costs: Businesses that closely monitor their bills reduce invoice-related costs like fines and interest payments. They also save money on wages since AP clerks spend less time hunting down and correcting payment issues. Early payments open up the potential for discounts with certain vendors.
Better supplier relationships: Like any business, vendors rely on timely payments. Tracking and handling invoices helps build a better partnership between your business and its suppliers. It also helps contextualize your spend with each supplier, which may create avenues to negotiate better prices and more flexible terms.
Increased visibility: Tracking invoices and keeping tabs on category spend brings a business's full financial picture into focus. Capturing every invoice and its details in one place creates better visibility into spending, identifies areas for improvement, and aids in making allocation decisions during budgeting season.
Is a spreadsheet-based invoice tracker enough?
Spreadsheets are a great tool for organizing, analyzing, and sharing information. As businesses grow, technology becomes beneficial because it's more cost-efficient than manual tracking. Spreadsheet-based invoice trackers are great for organizing a smaller, more manageable flow of supplier invoices per month.
When is it time to make the switch to software? There are a few common challenges and friction points to look out for, such as:
1. Invoice processing is falling behind
As businesses grow, the flow of invoices and payments rises, sometimes exponentially. Unless your company adds headcount to keep up with processing flow, the potential for missed or delayed payments increases accordingly. Technology automates many repetitive AP processes that bog down even the most high-performing teams. If processing speed becomes a blocking issue, it may be time to upgrade.
2. Your company has multiple locations or offices
Procurement often becomes decentralized during growth, and managing AP processes across multiple locations can wreak havoc on invoice payment timelines. These issues can lead to contract agreements that rob a business of buying power, duplicate invoices or payments across locations, and difficulty managing the logistics of receiving and paying for goods and services. A spend management platform centralizes these activities across locations so your business can take advantage of the benefits of growth.
3. System integrations become necessary
AP and procurement teams produce a lot of data, and sharing that data across platforms unlocks the potential of your finance department to negotiate effectively and secure better outcomes. A procurement platform with spend management tools breaks down data silos between departments and locations. It ensures everyone can access the best data to buy what they need and track spending.
Is your organization facing any of the above challenges? It may be time to consider a centralized processing and payables like Order.co. Ready to learn more? Request a demo.
Get started
Schedule a demo to see how Order.co can simplify buying for your business.
"*" indicates required fields