From Our Founders: The Future of Negotiatus is in Order
We started Negotiatus in 2016 with the mission to simplify buying things for businesses. Buying for a business seemed unnecessarily complex, which was not only...
Last Updated:
March 7, 2023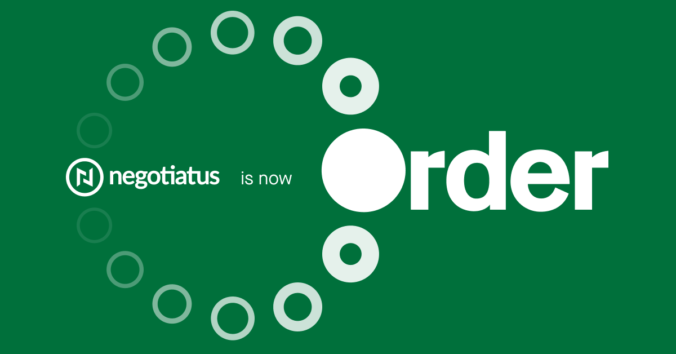 We started Negotiatus in 2016 with the mission to simplify buying things for businesses.
Buying for a business seemed unnecessarily complex, which was not only leading to suboptimal business outcomes for the businesses we talked to (wasted time and money) but chaos for those doing the actual purchasing work – mainly finance, operations, and procurement teams. As these businesses grew, they were dealing with more orders, invoices, workflows, and ultimately more messes.
We set out to launch a guided B2B marketplace with embedded fintech to deliver tailored solutions up and down the buying process. We realized there were many point solutions in the market focused on easing the pain for one constituent at a time, but no one was tackling the problem from the start - at the point of purchase.
And so our Company Truth was born: Solving problems begins with a new perspective.
Six years later, our commitment to simplify buying for businesses remains as strong as ever. The only thing changing about our business is our name. Effective today, Negotiatus is rebranding to Order.
We are also thrilled to announce a $30M Series B financing led by Stage 2 Capital via a direct investment from MIT's Endowment, a $30B+ fund with an impressive track record investing in transformative companies. Other round participants included Clocktower Ventures, Collaborative Fund, Seven Peaks Ventures, Ankona, and a number of strategics, notably Mark Hawkins, former President & CFO Emeritus at Salesforce, who we also welcomed as an Advisor.
"Why would anyone want to manage hundreds of vendors, sign in to multiple websites, and buy at inconsistent prices? If we can delight users and bring order to their purchasing workflow while saving them money, it's a no-brainer," said Jay Po, Managing Partner and Co-Founder at Stage 2 Capital. "From our first investment 2 years ago, we've been so impressed by the Order team and what they've built. From their integrated payments and financial services to the modernization of their purchasing platform, every team that buys anything for their business needs this.
"MITIMCo is impressed by the first principles and mission-driven approach Order has taken to solve a large and acute pain point in business purchasing," said Seth Alexander, Chief Investment Officer at MIT Investment Management Company. "In partnership with Stage 2, MITIMCo is thrilled to be a long-term investor supporting Order's work in streamlining business purchasing."
Why Negotiatus?
The spirit of the name was an interpretation of "negotiation," where all parties walk away winning. We are really proud of the business we created under this banner and all we have accomplished in the last six years. As we look to expand the ways we make buying for businesses easier, we wanted a name that would encompass both what we have built and what we are building now.
You may have also noticed that Negotiatus is difficult to say and to spell 🙂
Why Order?
We can go on and on about what Order means today and what we want it to mean tomorrow, but we'd rather prove it out in what we build and how we service our customers in the decades to come.
The primary motivating factors behind the name Order are:
Something that better reflects how we serve our core mission. When we started, a big part of the way we did that was by negotiating great terms for all parties. As we build even more ways to make buying for businesses easier, we want a name that reflects that.
Something that speaks to the emotional relief of being part of our business (think: having your things in order) and to the foundational element of our business (think: placing and receiving orders).
Something that represents the value we are delivering to all parties, from the customers who are buying and paying to the vendors who are receiving orders and payments.
Over the years, we've heard from countless customers and prospects that our software fills a void in their business or relieves chaos within their existing processes - so we like to think it was hiding in plain sight this entire time!
What's Next?
A whole lot! As a business, we are excited to continue building out a network that connects, informs, and organizes buying so that our customers can grow on their own terms. As a company and an employer, we hope to stand out not by any given feature or fundraise, but by our commitment to our values and the endless pursuit of our mission.
About Order.co
Founded in 2016 and headquartered in New York City, Order is a guided B2B marketplace with a mission to simplify buying for businesses. Powered by predictive applications and embedded fintech, Order sits at the intersection of a business, its vendors, and its payment methods to deliver tailored solutions up and down the entire buying process. With nearly half a billion in annualized spend, hundreds of finance, operations, and procurement teams – across customers like WeWork, SoulCycle, Lume, and High Level Health - rely on Order to guide their company's growth. For more information, visit order.co.
Like what you're reading?
Sign up to get the latest purchasing & payments content.